Category Archives:
Coalition News
June 30, 2017, the FED UP! Coalition sent a letter the President's Commission on Combating Drug Addiction and Opioid Crisis.  The letter informs the Commission of the need to hold the FDA accountable for its role in the opioid epidemic.
Read the full letter at FED UP! Coalition Letter to the President's Commission
Long-time FED UP! supporter, Emily Walden, shares the loss of her son with CNN. Emily testified to the FDA about the dangers of Opana ER, the drug that took her son's life and was recently pulled from the market.
He loved his country, and his country failed him. He should not have had access to this very dangerous and highly addictive drug. Too many mothers have gotten a knock on their door saying their child will never come home again. Too many children have had their lives cut short, families destroyed, communities left in ruins
Read the full story here: http://www.cnn.com/2017/06/09/health/mother-opioid-crisis-opana-er/
CNN – 06/09/2017
The Centers for Disease Control and Prevention (CDC) has just released grim statistics surrounding overdose deaths in 2015. Below is a summary of the data collected from the CDC WONDER database:
According to the National Center for Health Statistics, the number of overdose deaths involving opioids rose from 28,647 in 2014 to 33,091 in 2015.
Heroin overdose deaths rose from 10,574 in 2014 to 12,990 in 2015, an increase of 23 percent.
Overdose deaths involving synthetic opioids other than methadone rose from 5,544 in 2014 to 9,580 in 2015, an increase of 73 percent. This category of opioids is dominated by fentanyl-related overdoses, and recent research indicates the fentanyl involved in these deaths is illicitly manufactured, not from medications containing fentanyl.
Taken together, 19,885 Americans lost their lives in 2015 to deaths involving primarily illicit opioids: heroin, synthetic opioids other than methadone (e.g., fentanyl), or a mixture of the two.
Overdose deaths involving prescription opioids, excluding the category predominated by illicit fentanyl, rose only slightly from 16,941 in 2014 to 17,536 in 2015, a 4% increase.
These troubling statistics illustrate that the problem is far from over. It's important for us to remember, as Barbara Allen mentioned at the 2015 FED UP! Rally, everyone one of these numbers is a name and every name is a human being, not a statistic. Each person lost echoes pain and grief of a family, a friend, a colleague. Now, more than ever, we must rally supporters to demand smart legislation, raise awareness, and at the very least drive a decline in deaths resulting from this national crisis. For those that lost someone, we stand with you.
Source: http://www.asam.org/magazine/Addiction-Medicine-News/articles/articles-news/2016/12/09/continued-rise-in-opioid-overdose-deaths-in-2015-shows-urgent-need-for-treatment
October 2016…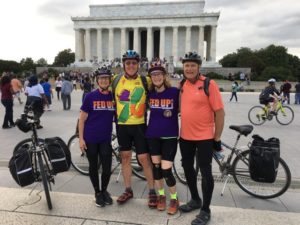 Letty, Jeff, Christina, Kevin and Tom rode 325 miles from Pittsburgh to Washington D.C. to raise funds for the FED UP! Coalition, in honor of their dearly loved son/nephew, Tyler Grove.
Considering they are all 58 and older, this was certainly a challenge!  They had trained endlessly and were successful in raising $4,210 at for the FED UP! Coalition.  Wow!  What a great way to honor Tyler!  See https://www.gofundme.com/compassionride
The 2016 FED UP RALLY was a success!  The 2016 FED UP! Rally and March to Capitol Hill was held on Sunday, September 18th, at 1:00 p.m. at the Sylvan Theater on the Washington Monument grounds in Washington, D.C.. There was a sold-out reception at the National Press Club on the evening of September 17th and a Hill Day on Monday, September 19th. Thank you for your support!  See our 2016 FED UP! Rally page for details.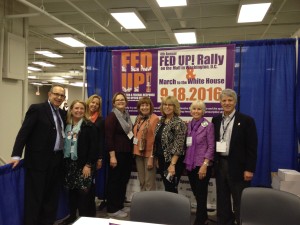 Members of the FED UP! Coalition gathered in Atlanta at the National Rx Abuse and Heroin Summit, March 28-31st to promote the September 18th FED UP! Rally and the work of the Coalition.  President Obama's presence was evidence of the success we have had in bringing the opioid epidemic to the attention of the federal government.
Excellent news on March 15th.  The Centers for Disease Control and Prevention (CDC) has released its hotly-contested and groundbreaking new guidelines for physicians prescribing opioid painkillers.  This is a huge victory over the special interest groups that have been profiting from the over-prescribing of these drugs.