| | |
| --- | --- |
| | |
SUNDAY, SEPTEMBER 28, 2014, FED UP! Rally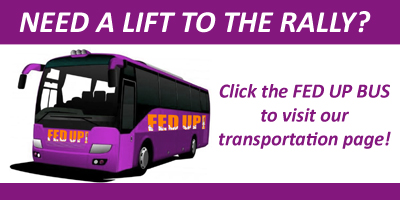 SYLVAN THEATER, WASHINGTON MONUMENT GROUNDS
ON THE MALL – WASHINGTON, D.C.
12:00 noon – music by Clean Getaway
1:00 p.m. – FED UP! Rally
FOLLOWED BY A MARCH TO THE WHITE HOUSE
=============================
SATURDAY, SEPTEMBER 27, 2014
Pre-RALLY RECEPTION
NATIONAL PRESS CLUB, 6:00-9:00 p.m. – SOLD OUT

Who Are We? We are families who have been ripped apart by opioids. We have lost loved ones to death or addiction. We are medical experts and advocates who understand that the root cause of the problem – overprescribing – starts in Washington with our federal government. This is a grassroots, family-based coalition, all coming together to make something positive happen out of our pain, our tragedies. We accept no money from pharmaceutical companies or their affiliates and 100% of the donations we receive are directly applied to managing the costs of holding our Fed Up! Rally. We are beholden to no one – except our lost loved ones, or our family members struggling with an addiction. We have come together to save lives. We are the conscience of our federal government – a government that has failed to protect the American people.
We are in the midst of the worst drug addiction epidemic in United States history.
The epidemic is having a catastrophic impact on families and communities and is placing tremendous strain on our health care system, businesses, and local and state governments.
The mission of The FED UP! Coalition is to create one voice calling for an end to the epidemic of addiction and overdose deaths attributed to opioids (including heroin) and other prescription drugs.
The FED UP! Coalition is working to find ways to:
Prevent our children, friends, and loved ones from becoming addicted to opioids

Ensure that people suffering from opioid addiction have access to affordable, evidence-based treatment;

Reduce opioid overdose deaths.
View Our 2014 Platform
Print and share our FED UP! Flyer! Download Flyer
Rally headquarters are located at the Marriott Metro Center in downtown D.C. 
Discounted rooms are SOLD OUT.  Standard rate rooms may be available.