Images by Kate Meyer Photography
| | |
| --- | --- |
| | |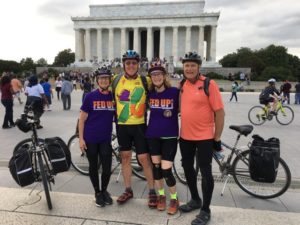 October 2016…  Letty, Jeff, Christina, Kevin and Tom rode 325 miles from Pittsburgh to Washington D.C. to raise funds for the FED UP! Coalition, in honor of their dearly loved son/nephew, Tyler Grove.
Considering they are all 58 and older, this was certainly a challenge!  They had trained endlessly and were successful in raising $4,210 at for the FED UP! Coalition.  Wow!  What a great way to honor Tyler!  See https://www.gofundme.com/compassionride
The 2016 FED UP RALLY was a success!  The 2016 FED UP! Rally and March to Capitol Hill was held on Sunday, September 18th, at 1:00 p.m. at the Sylvan Theater on the Washington Monument grounds in Washington, D.C.. There was a sold-out reception at the National Press Club on the evening of September 17th and a Hill Day on Monday September 19th. Thank you for your support!  See our 2016 FED UP! Rally page for details.
SIGN OUR PETITION  The FED UP! Coalition has created a petition to Congress expressing strong disappointment with the failure to include new mandatory funding in the Comprehensive Addiction and Recovery Act (CARA).   We can not politely and patiently remain quiet as the opioid epidemic continues to worsen.  Please read, sign and share our petition at: https://www.change.org/p/federal-funding-required-now-to-control-opioid-addiction-epidemic
Please see important updates on our Call to Action page.
We are in the midst of the worst drug addiction epidemic in United States history.
The epidemic is having a catastrophic impact on families and communities and is placing tremendous strain on our health care system, businesses, and local and state governments.
The mission of The FED UP! Coalition is to create one voice calling for an end to the epidemic of addiction and overdose deaths attributed to opioids (including heroin) and other prescription drugs.
The FED UP! Coalition is working to find ways to:
Prevent our children, friends, and loved ones from becoming addicted to opioids

Ensure that people suffering from opioid addiction have access to affordable, evidence-based treatment

Support and enable recovery


Eliminate opioid overdose deaths.