Despite the hurricane warnings and last minute change of location, the 3rd annual FedUP! Rally and march to the White House on Saturday October, 3rd was a great success! There were close to 3,000 people in attendance … this beats last year's attendance. The day began with a beautiful musical performance by the amazing Elizabeth Edwards. There was then an amazing program of speakers at the Sylvan Theater, followed by a march to the White House. Special guest, Chief Leonard Campanello, Chief of Police, Gloucester, Massachusetts was highlighted at th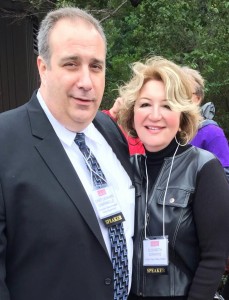 e rally. He advocates for drug users to be sent to rehab for treatment instead of jail. The amount of support is so appreciated by the FedUp! Coalition. With all of this help, we are making progress with our efforts to end the opioid epidemic.  Still lots to do! Thank you!
Pictured to the right are special guests, Elizabeth Edwards and Chief Campanello at the Fed UP! Rally.
The FED UP! Rally was followed on Sunday by the Unite to Face Addiction event, which was a celebration of recovery and included a rock concert on the Mall.  Here is a story written by MaryBeth Chichocki, a member the The Addicts Mom and mother of Matt who died of an opioid overdose.  It explains the emotions that so many of us felt that weekend. Click here to read the story.